The real work started when the hobby turned into a real business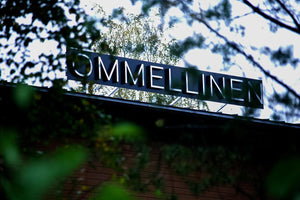 More than just a romantic idea, Ommellinen is a credible brand simply because of all the hard work that goes on behind the scenes.
Ommellinen's story began in the same way that many people dream of starting a business.

It started at home at the sewing machine, creating clothes first for the family's own children and then for friends' children. What followed then was a blog that gradually accumulated a group of genuine fans. In the end, her hobby had taken over such a large chunk of her life that Liisa Häkli seized her dream by the hand, opted out of her teacher's job and became a full-time entrepreneur.
She doesn't think there is necessarily much to admire in working hard just for the sake of it, but if the work as a whole is enjoyable you tend to work a lot without really noticing.
It might seem that things have rolled along by themselves without much effort. In a way this is true, because whenever an opportunity has presented itself, Häkli has seized it. Expanding the fabric manufacturing business to include an online shop, starting her very own sewing shop and moving to new premises were all decisions made in the moment, but still with a clear strategic goal in mind. The idea is for Ommellinen to keep growing. 
At the moment, the lights go on at the Ommellinen building at seven in the morning and go out again at around the same stroke in the evening. A lot of things happen during that time.
In the sewing shop, Ritva Virolainen cuts fabrics and Teija Byman-Väisänen sews, just as much as they can. Together with Liisa, they design the products and take care of stock control.

Liisa's partner, Jesse Häkli, has taken on the management of the online shop as his area of responsibility, along with finances and accounting. His other tasks include the logistics required for the wholesale business, payment transactions and communication with customers.
Everything else in between is Liisa's responsibility. Cutting fabrics and taking care of the shop take a large portion of her time and what time is left is taken up by rolling fabrics, finishing off clothes, serving customers and making sure everything runs smoothly. To allow Liisa more time for design work, a new employee, Suvi Böhm, was hired for the shop.
The idea that work can and should be fun is cherished in the Ommellinen work community. All the employees feel that they can express their opinions and influence how things are done.
Liisa considers it extremely important that they continue to listen to customers' opinions. She wants to hear about their experiences and the enjoyment the clothes and fabrics bring them. She also keeps Ommellinen up-to-date by paying attention to her own likes and dislikes and by listening to her customers' ideas.
A company cannot succeed by building its know-how solely around its business idea. A good idea is important, but at least equally important is the ability to see the whole picture and understand financial figures. You also need a dash of courage, a bit of madness and the ability to make decisions, sometimes very quickly. Although customers mostly see Ommellinen as a creator and seller of products that delight and stir strong positive emotions, there is a great deal of hard work going on behind the scenes to ensure those customers are really happy with their products.
But when it comes down to it, the one secret that sustains Ommellinen's success is probably the fact that it wasn't created as a business, but the business created itself. In the words of Ommellinen's founder and owner, Liisa Häkli:
"We didn't choose this, Ommellinen chose us. Something so good is easy to keep going."